Folded corners
Fab-Form now offers sewn corners for the same lineal price as the fabric roll. If sewn corners are not available, corners can be cut and folded as shown below: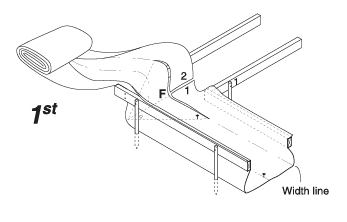 Step I
Run Fastfoot® past corner. Nail off center line and corner diagonal. Staple fabric in position up to corner.
Cut an inverted 'T' on inside fabric as shown. Run top of 'T' the full footing width in one direction, and an equivalent width in the opposite direction. Staple tab #1 to screed board #1.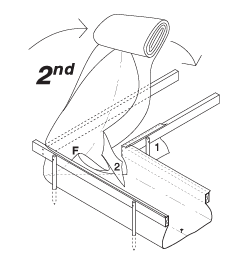 Step II
Lift fabric up at point "F", pivoting roll around outside corner until aligned in new direction.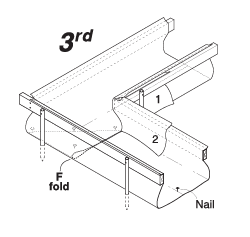 Step III
Lay down fold "F" and nail to ground. Staple tab #2 to screed board. Corner finished.