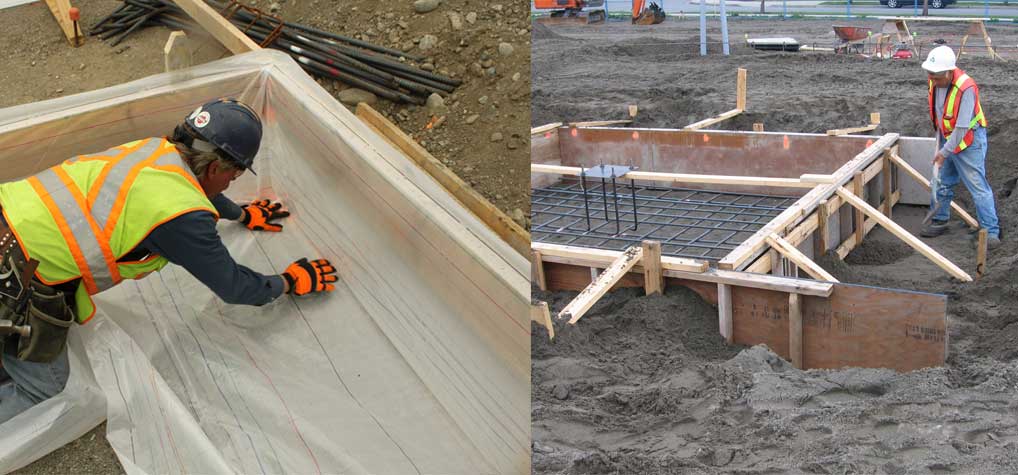 COST COMPARISON: FASTFOOT vs PLYWOOD
This calculator allows you to quickly calculate the full costs of forming commercial pads with fabric (Fastfoot) compared with 3/4" plywood. The calculator assumes the lumber formed pads use plywood with a 2x4 framework behind. If the pads are not using plywood, use the residential footing comparison found HERE.
To see the assumptions and the JavaSript code for the calculator, click HERE.
The calculator looks at the following factors:
Lumber and plywood cost (Fastfoot is much less than dimensional lumber)
Labour rate
Time to level the site for the footing lumber and plywood (Fastfoot doesn't require a level site)
Time to carry plywood and lumber in, out and across the site (Fastfoot only uses 2x4s or 2x6s)
Number of re-uses of the plywood, lumber and stakes (Fastfoot protects all lumber from concrete damage)
Time to drive stakes
Time to set up screedboards and form lumber (2x4s are easy to set up)
Time to build the 2x4 frame to support the plywood
Time to install Fastfoot
Time to strip forms (Fastfoot protects lumber from concrete, hense easy to strip)
Time to clean forms (no form cleaning with Fastfoot)
You must input the lumber cost per thousand board feet of 2x10. The calculator then adjusts this cost to the different lumber sizes and plywood. For example, currently there is a premium for a 2x12 over 2x10 of approxmately 8%. Plywood currently has a 36% permium over dimensional lumber per mbf.
The current lumber cost per thousand board feet of 10' 2"x10" (December 2021,Vancouver, Canada) is $1250.