Helix®

Micro Rebar Debuts in British Columbia

RDC Fine Homes Ltd. recently poured BC's first foundation reinforced with Helix® micro rebar in the footing and stem wall. RDC, located in Whistler BC, specializes in custom homes and energy efficient 'Built Green®' technology.

The project, 'The Valkyries', located in Squamish, BC, consists of four, three story, three bedroom town homes. The developer, Mario Gomes, is building to the 'Built Green® GOLD' standard with a minimum EnerGuide rating of 80.

To assist with these green objectives, project Structural Engineer, Ken Louie, RKTG Associates Limited, Vancouver BC, determined that Helix® provided equivalent structural performance to conventional steel reinforcing while lowering the embodied energy by 30%.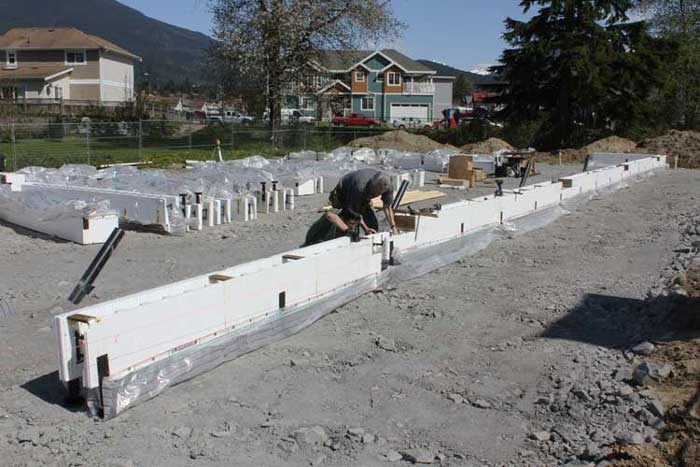 Pre-manufactured Foundation Components
The 524' long stem wall and footing foundation was premanufactured into 51 separate components and delivered to the Squamish BC jobsite. Each component consisted of:
curb wall made from Logix® taper top block, R-24 insulation value
Fastfoot® footing membrane to form the 24" x 9" footing and prevent rising damp
door openings where required
seismic tie down locaters for SSTB16 and PAB8
adjustable side supports to level and plumb each component
Component ends were glued and clamped together on site, then reinforced with fiberglass tape.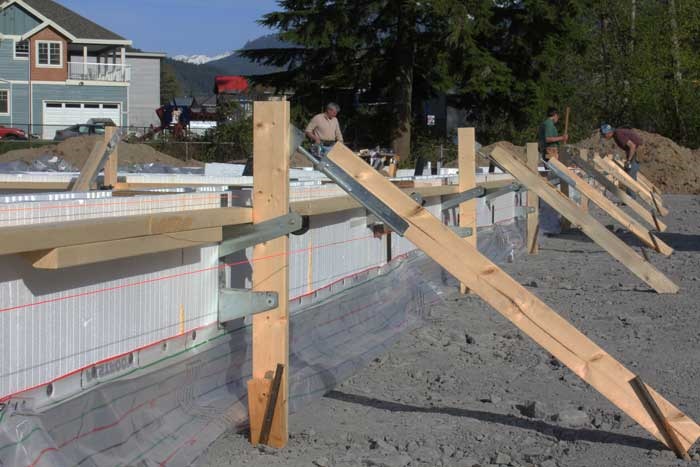 Zont™ Bracing
The Zont® bracing system was used to ensure there was no movement of the wall during the pour. In this picture the new Zont® 'Twist' was used to lock the top waler in position.
Zuckle™ wall aligners were used to accurately adjust the wall to the string line.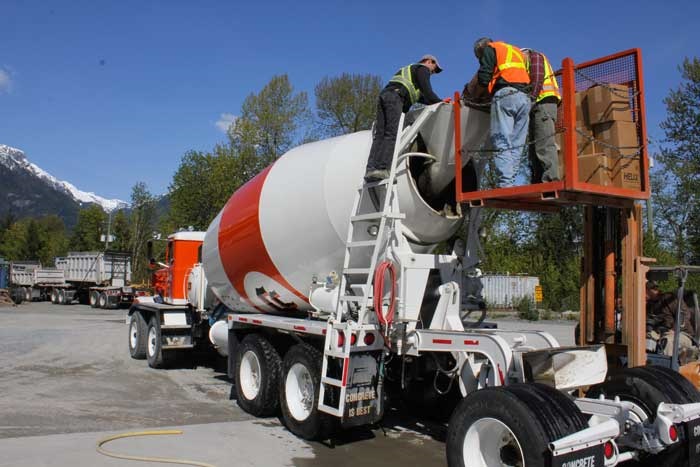 Adding Helix® to Concrete
Concrete was supplied by Cardinal Concrete Ltd., Squamish, BC. The mix was 25 MPa , 3/4" aggregate and no plasticizer.
"We're impressed with Helix®" said Bob Versluis, Plant Manager "the 1" fiber length made for easy pumping."
A forklift was used to lift the Helix® and employee to drop the boxes of fiber into the hopper. For details on adding the Helix® into the concrete, click here.
Helix® dosage was 20.7 kg/m3, which replaced 15M bars in the footing and stem wall.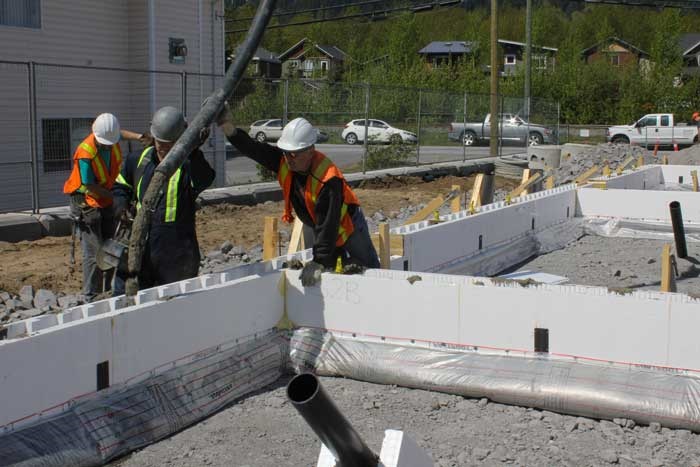 Placing Concrete
Blair Mackie, Project Supervisor manned the pump hose.
"Helix® presented no difficulties with the concrete pumping", confirmed Blair. "We required 37 cubic meters of concrete and there was only one occasion where the line got blocked."
"We had concerns that Helix® might make finishing the top of wall more difficult", added Blair. "Helix® had no impact what so ever."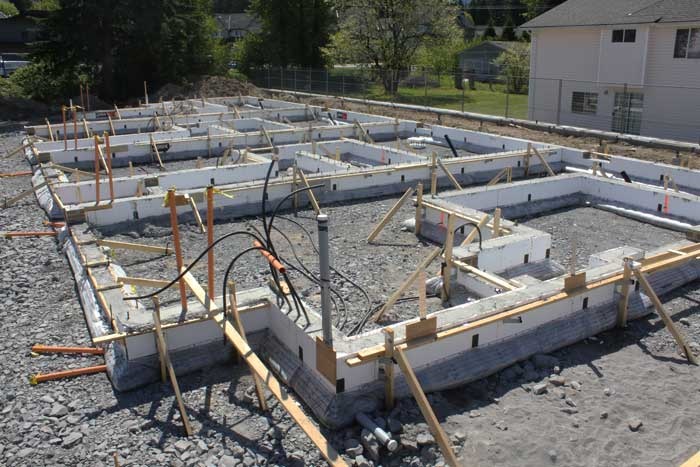 Completed Pour
The pour of 37 m3 was uneventful, with finishing done by RDC.
"We've used the Monopour System for three years now," said Bob Deeks, President of RDC Fine Home Ltd.
"The Helix®-Monopour combination is difficult to beat. Not only do we get an insulated and damp proofed foundation, we reduced our construction time by two weeks and our costs as well."