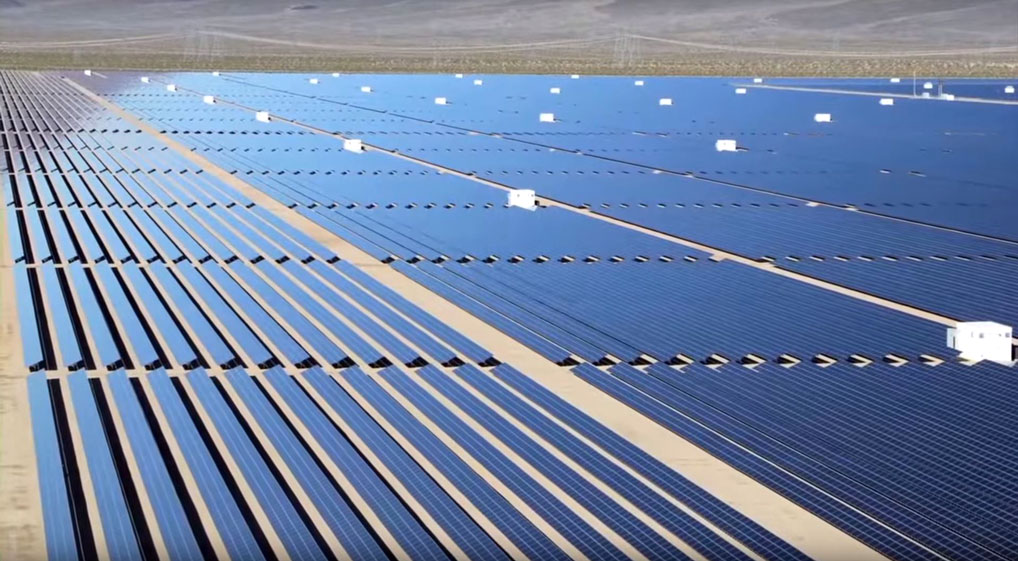 This photo shows an overview of a portion of the project. The solar arrays were supported by 8" x 8" galvanized "I" beams driven from 4' to 8' into the ground. An accumulator station (the white buildings shown in the photo above) were located in the center of each four solar array fields.
Fastfoot® was used to edge form the foundation pads for each of these accumulator buildings.
"This is the largest solar plant of its kind anywhere in the country", confirmed President Obama. "We've got to develop new energy technologies and new energy sources - it's the only way forward."
Fastoot® was used to form all the pads for the accumulator buildings for the solar arrays such as the white structure shown on the right background of the photo above.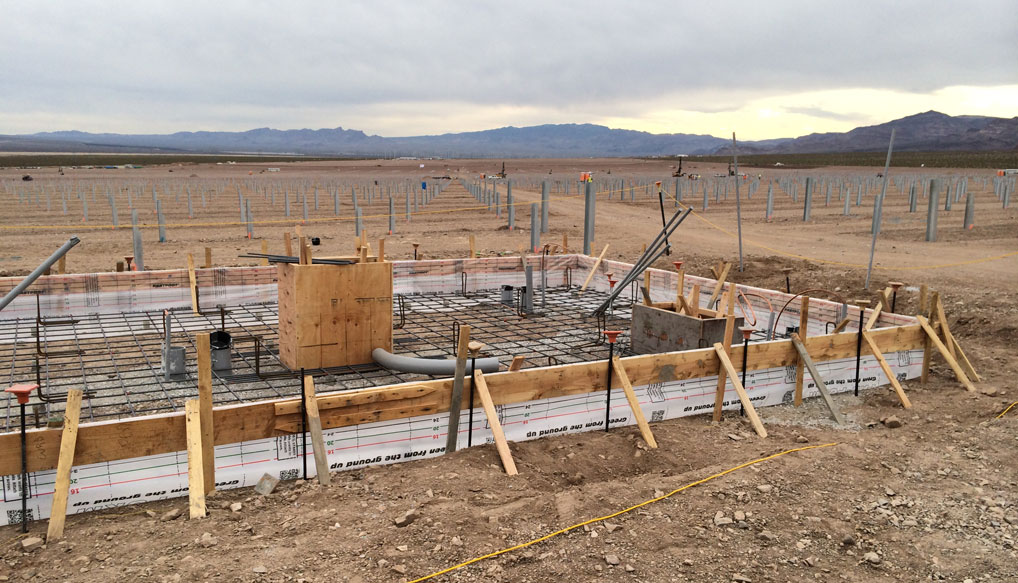 The contractor in charge of forming and concrete work was T.B. Penick & Sons, Inc. Penick has been in business since 1905, providing general construction, design-build, construction management, structural concrete and Innovative Concrete Systems.
This photo shows the setup of 2x10 screed boards using metal stakes spaced 5' on center. Fastfoot® was stapled to the top of the 2x10 with the balance placed on the ground. The weight of the concrete on the fabric provided sufficient resistance to form the concrete in a fast, sustainable and cost effective manner.
The "I"-beams to support the solar panels can be seen in the background.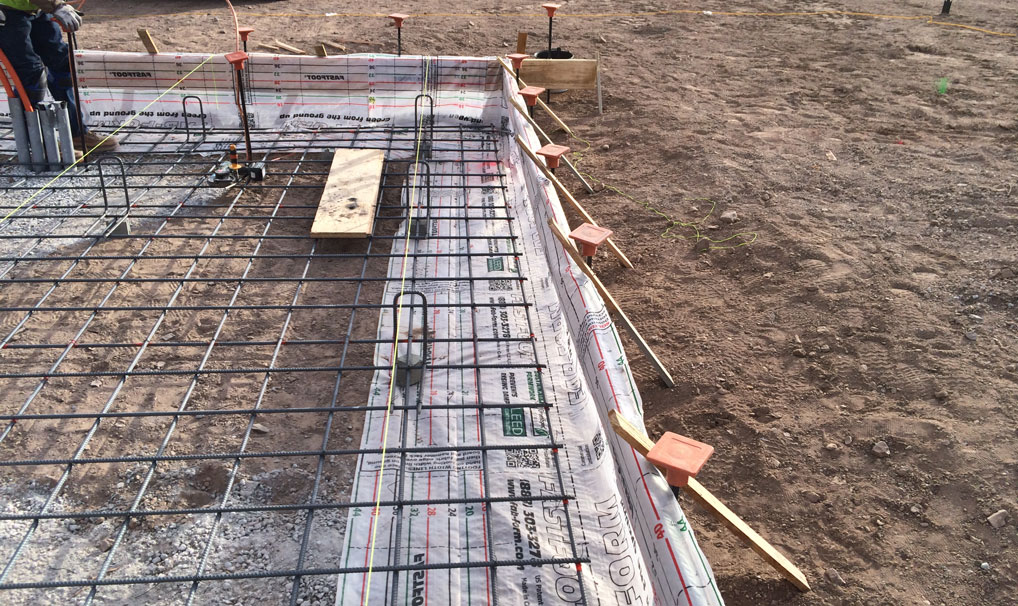 This shows the Fastfoot® edging in place with the lower rebar mat installed. Note the bricks to support the rebar also hold the Fastfoot® in position. Andrew Weber, Senior Project Engineer with T.B. Penick & Sons, Inc. was impressed with Fastfoot.
"We are pleased with Fastfoot®", confirmed Andrew. "This project was on a tight schedule: installation of Fastfoot was quick with minimal bracing, and we set the height of the screed board to the exact height of the slab, so concrete finishing was much easier than if we were finishing inside a plywood form."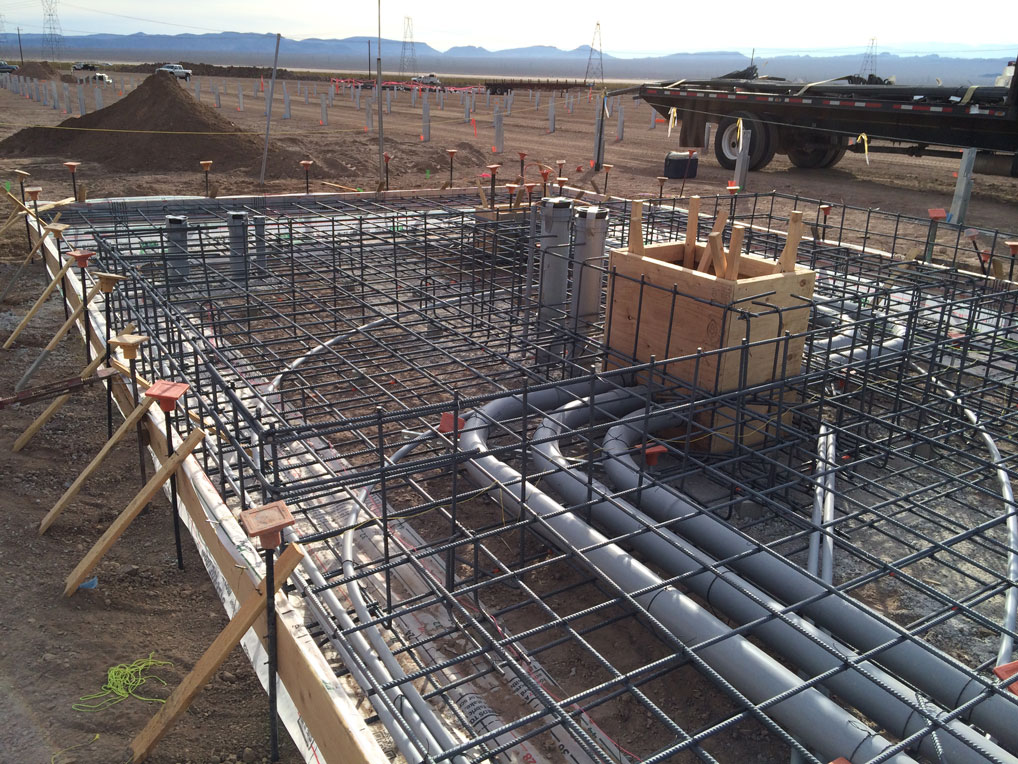 As can be seen from this photo, there were a multiplicity of electrical conduits from the adjacent four solar panel fields as well as going on the the main station.
The top mat has now been installed and the forms are ready for concrete.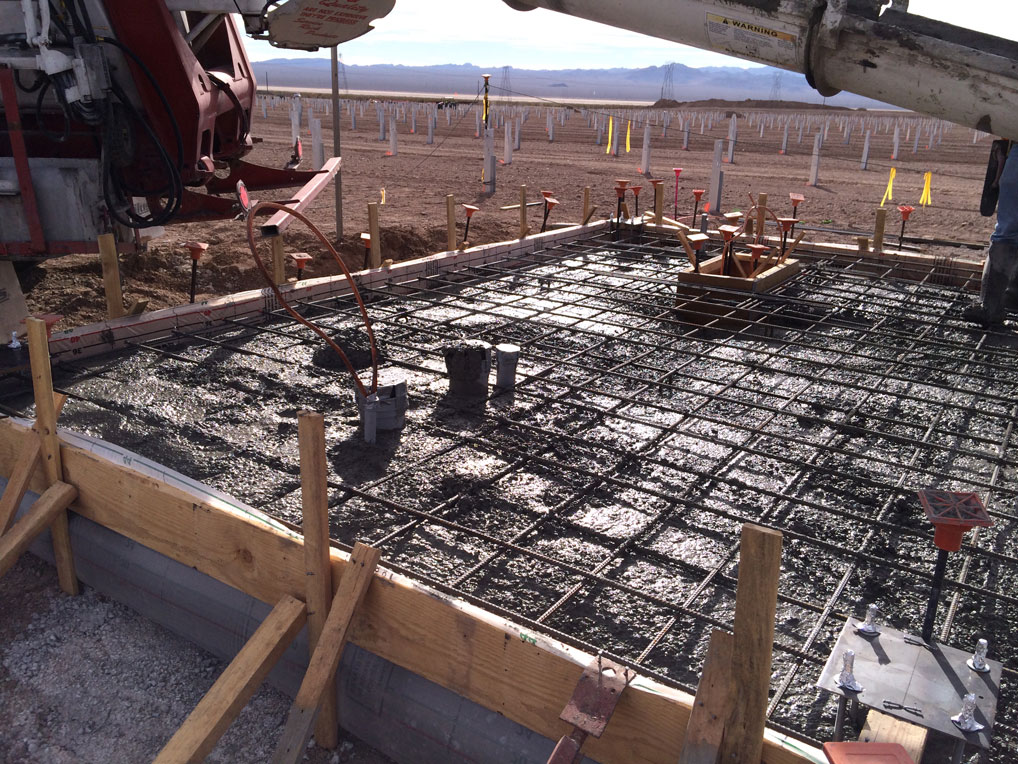 "We poured the slabs early in the day to avoid the heat and dry air after lunch", said Andrew. "Fastfoot, being a vapour barrier, prevented moisture loss around the perimeter."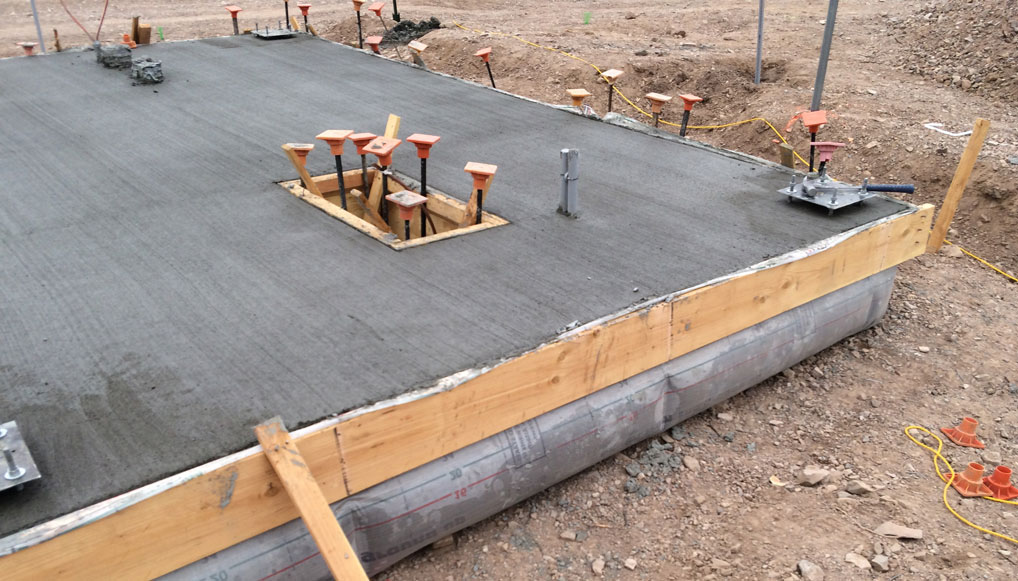 "Stripping the slab took minutes", confimed Andrew. "And Fastfoot® protected the 2x10 screed boards from concrete damage, ready for the next pad."